Our consistent aspiration of offering the best solution possible to each and every baker at all times runs like a common thread through the entire company history of Koenig. Over the course of the years, this has led to the fact that, today, we actually do have the best machines for all individual requirements.
The Mini Rex in the Futura or Multi version with forming station constitutes the entry-level into the S series. It is used for the production of rounded, long-rolled, long-rolled and folded as well as flattened products with an hourly capacity of up to 4,800 pieces.
Performance features:
compact design
fully automated dividing and rounding of wheat doughs and rye-wheat doughs with a maximum rye percentage of 40%
can be combined with Mini Rex Futura as well as Mini Rex Multi
excellent results with the production of round, long-rolled, long-rolled and folded as well as flattened goods
maximum hourly capacity of up to 4,800 pieces.
weight ranges Mini Rex Futura / Mini Rex Multi
tried-and-tested in thousands of in-store bakeries
also available with additional tools for the production of Bolillos and Teleras (flattened, stamped product)
height-adjustable calibrating head, folding net belts, lower belt and upper belt for ergonomic working with the following functions: transporting, long rolling, pressing flat
teflonized collecting drawer for manual product removal
high level of operating comfort
also available with seeder
quick and easy cleaning on account of plug-in elements
stainless steel design
power supply: 1.5 kW
weight approx. 460kg
Not every decision has to be a hard one. The following overview shows you at a glance which machines will best meet your demands with regard to the end product. Everything else we'll find out together in a detailed consultation that has only one aim: Making your success perfect and sustainable.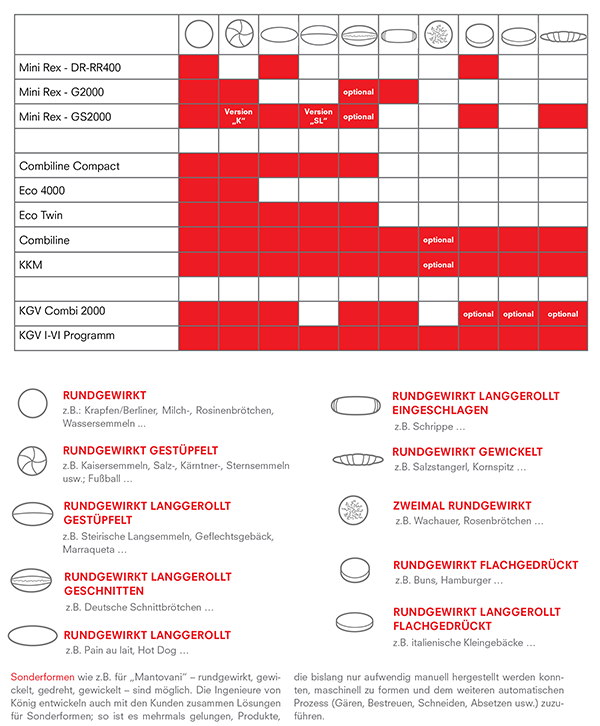 ENQUIRE NOW