Compact lines with stamping station and folding/long rolling station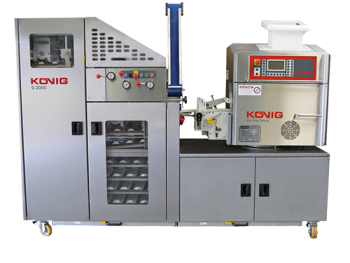 Whether rounded, stamped, oval or folded/long-rolled, the cost-efficient compact line G2000 with Mini Rex Futura as head machine makes them all perfectly. The compact prover with an hourly capacity of approx. 2,500 pieces is the ideal solution for small and very small or in-store bakeries.
Performance features:
compact pre-prover with Mini Rex Futura or Mini Rex Multi as head machine
max. hourly capacity with prover operation: 2,000-2,500 pieces, continually adjustable
for greater capacity without prover operation, Mini Rex Futura or Multi movable: 1,800-4,000 pieces, continually adjustable
weight ranges Mini Rex Futura / Mini Rex Multi
one-row discharge belt for convenient manual removal
prover with 100 useable cup swings, for a max. weight of each dough piece: 75 g
proving time approx. 6 min., with a capacity of 2,000 pieces/hour
stamping device with easily changeable stamping tools
integrated folding/long rolling unit (e.g. for the production of Berlin rolls)
power supply: 1.2 kW
weight approx. 1,100 kg
generous operating and maintenance doors in stainless steel design for easy accessibility for cleaning and maintenance
removable catch tray under the entire line
new user-friendly, intuitive control panel with new standardized operating levers
Not every decision has to be a hard one. The following overview shows you at a glance which machines will best meet your demands with regard to the end product. Everything else we'll find out together in a detailed consultation that has only one aim: Making your success perfect and sustainable.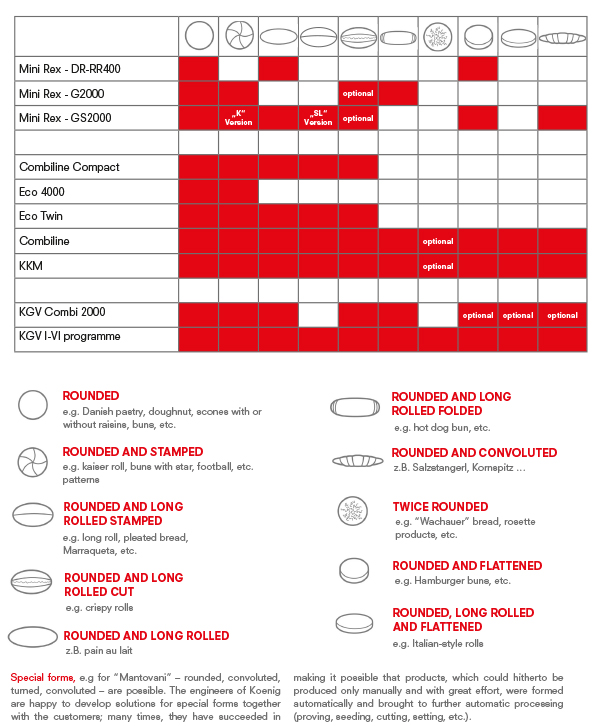 ENQUIRE NOW