The multi-talent – for bread in its greatest variety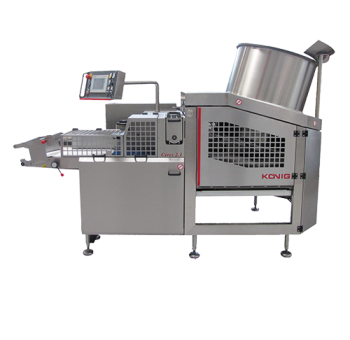 The Ceres 2.1 is a modern dough divider meeting the highest demands in dough yield and gentle dough processing, while delivering greatest possible accuracy. Special attention has been given to the robust design and the possibility to easily clean and maintain the machine.
The fact that a broad range of breads can be produced with the Ceres 2.1 turns it into a multi-talent in the baking area. No matter what type of bread, either traditional breads such as rye bread or rye-wheat bread or typical Mediterranean bread, the Ceres 2.1 is the answer. Rustic-style baguette, ciabatta, white bread or round flat breads, even pizza dough can be divided with the Ceres 2.1.
Performance features:
for all doughs with a dough yield between 162 and 182
for all doughs ranging from 100% wheat to 100% rye
for all doughs with pre-dough and long bowl resting time
minimal cleaning efforts on account of easy access to the parts to be cleaned, extra cleaning menu, movable dough belt sensors, removable transfer disc and belts of synthetic material
dough divider with patented gravitation dough sheet technique
hopper with a volume of 300 litres and 900 mm height for more bowl proving – no pre-portioning hopper required
sensor-controlled weighing device
designed for one-man operation
designed in accordance with the latest applicable hygiene regulations
electric lifting and lowering of the hopper
shortest possible set-up times when changing dough sorts
Siemens-S7 PLC control with touch panel
bowl hoist with standard scraping device can be combined directly
Bowl Hoist
The bowl hoist with integrated dough scraping device automatically conveys the dough batches to be processed into the Ceres 2.1.
Ceres 2.1
With the integrated weighing unit, the gravitation dough divider divides the dough string into even dough pieces. As soon as the desired weight of the dough piece has been reached, the guillotine cuts the dough sheet.
rotating dough hopper, 300 l capacity, with inner cone
rotating cutting disc
transfer disc with duster
dough sheet width 60 – 150 mm, adjustable by sensors
electronic weighing system
guillotine
transport belt with duster
height adjustable discharge belt
Round-moulding unit
The dough pieces divided by the guillotine are rounded by the eccentric round-moulding unit or, optionally, by the belt rounding device. The original structure of the dough is unchanged on account of the minimum mechanical stress.
Transport belt with bypass for the round-moulding unit (optional)
A transport belt conveys the rounded dough pieces to be further processed manually or automatically. By means of a height and length adjustable belt, the cut dough pieces – e.g. for Ciabatta – can be directly removed or further processed, bypassing the round-moulding unit – e.g. for baguettes. Of course, the transfer to an intermediate prover and/or long rolling unit is also possible.
Work table with transport belt and proving tray shelf (optional)
Not every decision has to be a hard one. The following overview shows you at a glance which machines will best meet your demands with regard to the end product. Everything else we'll find out together in a detailed consultation that has only one aim: Making your success perfect and sustainable.