The endless dough belt line for a great variety of stress-free baked goods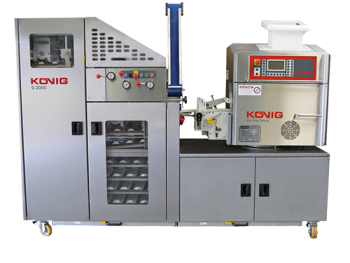 The Certo Pan M is based on a completely new system of dough ribbon creation that guarantees maximum weight accuracy without wasted dough by using a rotation principle. In order to avoid discontinuities, and thus irregularities in the dough, the added dough is rotated in a drum. With an oscillating cutting knife, the rotating dough is formed into a constant endless dough sheet.
Performance features:

dough throughput of up to 600 kg per hour
maximum hourly capacity of 7,500 pieces (square rolls) or 6,000 pieces (rounded rolls) when working with 5 rows
infeed of dough via integrated box lifting unit
endless dough sheet production by the use of a rotating disc hopper and an oscillating cutting knife
exchangeable cutting rollers for varying numbers of rows for the dough sheet
usable dough sheet width approx. 240 mm
even dough pieces with high weight accuracy through endless dough sheet
optimal cleaning on account of large maintenance doors and swivelling disc hopper
easy operation with PLC control and touch panel with pictograms
Not every decision has to be a hard one. The following overview shows you at a glance which machines will best meet your demands with regard to the end product. Everything else we'll find out together in a detailed consultation that has only one aim: Making your success perfect and sustainable.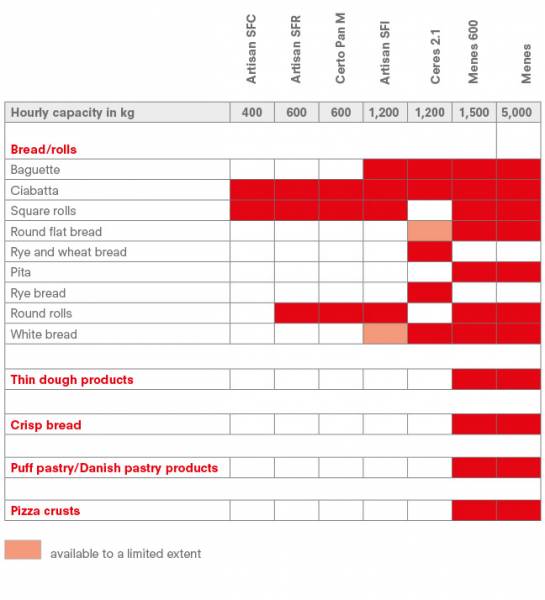 ENQUIRE NOW