Equipment Solutions
Industrial Bakeries
Dry and Wet Ingredient Handling
We supply innovative bakery equipment. Whatever your requirements, Bakery Combinations offers a wide range of end-to-end industrial solutions. From raw ingredients to the finished product, we have the technical knowledge, experience, and network to provide the perfect bespoke solution for your business.
To produce high-quality bread, an efficient and effective system that completely manages solid and liquid ingredient is essential. The systems we supply meet all Australian and international safety and food safety standards.
A large number of recipes in production can require the automated management of eighty ingredients, as well as the essential flour, water, salt, and yeast. Adding requirements relating to traceability, all the way through to the reading stage, demands quality technology.
When supplying you with the best possible solution, we look are various factors such as cleanliness, hygiene, ease of maintenance, reliability, and toughness. This is why we use Technosilos for dry and wet ingredient handling. Technosilos retains complete systems for the management of solid and liquid raw materials adapt to every production need with specific and customised solutions.
Technosilo's Specific and Custom Solutions
There are many technical components to dough! Water dosing in particular is an important stage to this process. It is critical to in ensuring the stability of bread and other leavened products.
The Technosilos system has the ability to automatically detect the ambient and flour temperature. After establishing the "heating factor", you can mix three different water temperatures in order to obtain the specific dough temperature that the operator has selected for the recipe in use.
This function enormously simplifies the operator's work and refines the quality and repeatability of the production results.
At the output of the moulding machines, the Technosilos system feeds the flour duster, transferring the flour from the storage silos in a completely independent manner.
The entire system is managed by a PLC, which receives recipes and information directly from a PC installed in the control room. This provides a real-time overview of the system, its operation and any issues that may occur.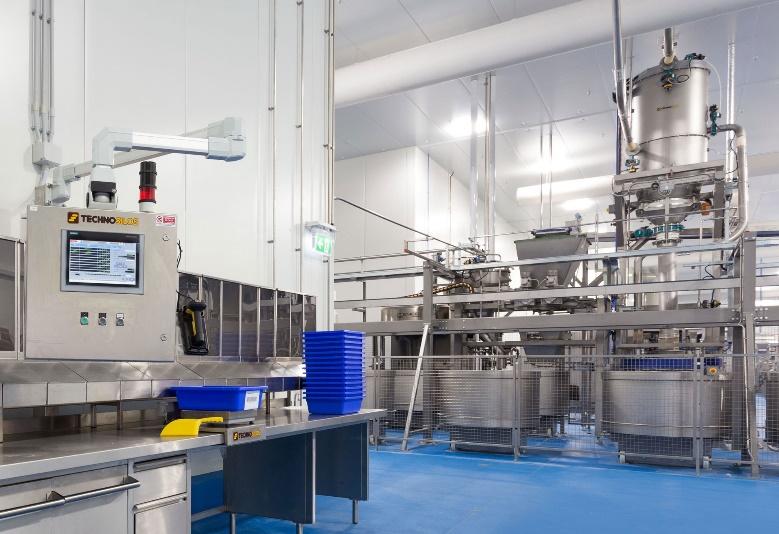 For further information about products and possible solutions, please visit Technosilos website
HERE
.
We supply innovative
bakery equipment